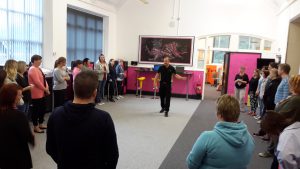 Succeedin travelled to the Rhonda Valley to undertake a CPD training day at Cwmclydach Primary School, with all 25 Teachers and TA's attending. The morning session saw the delivery of a thought provoking Behaviour Management Workshop. The group were split into small teams where self-evaluation, games and group discussions were undertaken, resulting in good positive points coming out with Succeedin bringing awareness to this sensitive and often overlooked subject.
Quotes from the Day:
"Challengers your thinking" Table 1
"Choose you words wisely" Table 3
"Food for thought, interesting, enjoyable and fun" Table 4
"Thought provoking ideas that have encouraged us to reflect on our own classroom practice & how we deal with behaviour, through praise and encouragement. Thank you Dave and Jonathan, lots of opportunities to discuss" L Lewis – Deputy Head Teacher
"Common-sense, back to basics approach to a sensitive and often overlooked part of being a successful school. A thought provoking and stimulating insight into positive behaviour management" G Dacey – Head Teacher
The afternoon session saw the introduction and training of Succeedin's new online PE curriculum platform, which has been purchased by the school to deliver their PE across the whole school. With only minutes being taken to build their schools curriculum and timetable all teachers took to their IPad to review their new online, ready to use lessons plans.
Following the initial PE evaluation carried out in July, Succeedin have also reviewed the schools existing PE cupboard; now with a newly stocked supply of all the PE equipment needed, the staff are looking to embrace their new resources and to start to deliver outstanding PE lessons.
Quote:
"A wonderful resource that is easy to use. So nice to have easily accessible resources. Succeedin PE will most definitely improve our current PE provision. All staff were enthused and keen to begin using." L Lewis – Deputy Head Teacher
Services Supplied and Delivered
PE Evaluation
CPD – Behaviour Workshop
Online PE Curriculum Application Platform
PE Equipment