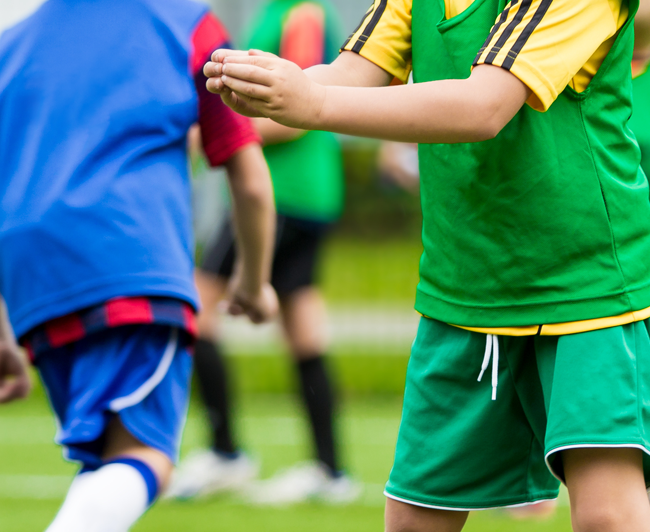 With the government making us aware that children need to take part in more physical activity to combat obesity and improve health, I find myself writing this blog to try and understand the issues affecting them both. We know that children don't get enough from their Physical Education (PE) lessons at primary level but I'm not sure the general public fully understand why.
I have tried to take into consideration a variety of factors but find myself stuck at the source of the problem. Whilst our primary school teachers find themselves being driving towards data and assessment, is PE being neglected? Yes, only because primary school teachers are NOT specialists in PE.
Once they have completed their teacher training they will have accumulated the grand total of 6 hours of PE training on a four year course. That's right 6 hours to understand and deliver a PE curriculum that is written by a teachers with the same limited PE background….. Understanding 1 lesson is hard enough but times this by 10 sports, 6 week blocks and trying to deliver an Ofsted outstanding lesson is a recipe for failure. So just as you get your head around your year 3 PE curriculum the teacher could just as soon be moved to a different year group with different lesson plans and varying ability.
I just want to clarify that this is not a swipe at teachers but a true reflection of the situation they find themselves in.  Teachers are not to blame. The system is. Not only do they receive minimal levels of training, primary school teachers do not have to hold any NGB qualification to deliver PE. What does this mean? A teacher with no coaching qualification can teach your child gymnastics, hockey, football…  Write a PE curriculum, take on a PE manager's role within a primary and take teams to competition as a manager of that team.
In no other industry would this happen, imagine spending four years training as a fighter pilot where almost all four years focus on everything but flying the plane. Then, you are given 6 hours flight training before you're sent out to fly by yourself!!
So, the answer is to get your school a coaching company/individual(s) that can just pop up with an NGB level 2 offering their services…. WRONG! If you intend on doing this, then your coaches must comply with the following:
Appropriate qualifications — the minimum qualification,  recommended by the National Partners, for a coach or professional working in a primary school context is considered to be a UKCC level 2 coaching qualifications or equivalent in the activity being delivered*

https://www.sportengland.org/media/332163/The-employment-and-deployment-of-coaches.pdf
*(Source: the Sport England Employment and Deployment document)
To deliver a PE curriculum including various sports, your coach needs to have relevant AND accredited qualifications for each sport you want to offer as part of your PE curriculum.
This makes it very hard for coaches to gain a respectable income doing something they are passionate about as to make a living in coaching they would require 12 level 2 qualifications to teach children in a primary school.
Whilst a large majority of sports have transferable skills and techniques, it is not enough to hold just a level 1 NGB supported with 1 or 2 level 2 NGBs. Coupled with the fact most level 2 qualifications are aimed at ages 12 and above and designed to develop game play, it is deemed that these are "A MUST" to coach 5 year olds on the Fundamentals of Movement (FOM). Yes, the very basics can I coach a child how to walk, jump, jog skip and hop in a variety of directions using my FA level 2 badge. The counter argument is having a level 2 qualification should guarantee your ability to control 20+ children in terms of behaviour and safety.
As a coach myself with 13 years of experience in the industry, it is believed that I may not have the relevant skill-set to work with a class of 30 children. I only have level 1 tag-rugby and netball but level 2 in football, multi-skill and tennis. I am not allowed to take tag-rugby as I am not level 2. Not because the level 2 is more relevant to year 3 children (chuckling as I write this) but because it shows I have experience and behaviour management.
So here-in lies the problem teachers have very little PE training however they can teach tag-rugby, rounders, cricket, hockey, football without any coaching qualifications. In some cases, they might even have no interest in PE and actually studied their degree in music at university, thus providing the school with a lovely Christmas service once a year. They should possess the experience of working with large numbers of children on a daily basis.  Finding solutions and strategies to deal with different behavioural issues becoming second nature. Finally, delivering a variety of subjects at a high level on a daily basis gives them the experience they need to grow.
We then have coaches that may only hold three level 2 qualifications. That if they coached to the specific requirements of their coaching NGB to ensure every child's safety in a PE lesson, they would expect to use the appropriate sports attire:
shin pads for football
gum shield for hockey
nails cut and hair tied up for netball
No coach should allow a child to play without the above being addressed. Then we talk about coaching equipment like size 3 footballs for year 3 given the fact you can have 30 children in a lesson you would need 30 balls in year R to work give them any chance of learning ball manipulation in 6 1hr blocks. Imagine turning away 12 children because they didn't have the appropriate kit. Teachers would have a complete meltdown.
How do we find a balance? Maybe teachers need more support and CPD in PE….. Maybe coaches should spend a minimum of half a term in a school before teaching……. Maybe primary schools should have a PE specialist/coach or a full-time teacher providing all sports.
Whatever the solution is, a child's key physical development is between 4-9 years of age (recent studies show – http://www.livestrong.com/article/177239-physical-development-between-4-9-years/ ). We need to capture them at this crucial age. We need to feed them with inspiring PE lessons, set the essential PE foundations (e.g. movement, receiving, catching winning and losing), fix them challenges, introduce them to sporting values and give them positive experiences. If not, how can we change them at secondary school when their mind-set is fixed in a negative state towards PE?
It is NOT about taking part! It is about the child being engaged and inspired to play, to learn how to accept losing and how to be courteous in case of victory. It is about playing in a fair way, being able to take a loss and work hard to improve areas that need developing. You don't go for a job interview, not get it, go home and tell your partner "I didn't get it, but I took part".
As I have said throughout, this is not a dig at teachers or coaches its aimed at the system that allows teachers and coaches to fail. More importantly it is aimed at reminding us how important a role PE plays in a child's development. PE, delivered correctly can and will develop the 'whole child' and give them a variety of skills for the future.
Author: David Hazelgrove
"In no other industry would this happen, imagine spending four years training as a fighter pilot where almost all four years focus on everything but flying the plane. Then, you are given 6 hours flight training before you're sent out to fly by yourself!!"